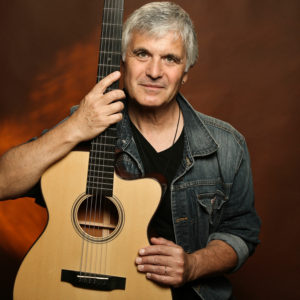 GRAMMY® WINNER
GUITARIST FOR PAUL McCARTNEY'S WINGS
FINGERSTYLE GUITARIST OF THE YEAR
STUDIO MUSICIAN & COMPOSER
"Juber scores high marks for the clarion precision of his playing and for his tasteful arrangements" – Downbeat
"A Master!"-  Pete Townshend, The Who
"The melodies, textures and harmonies he coaxes out of an acoustic guitar are absolutely spellbinding." – Guitar Player Magazine
GRAMMY® winning guitarist Laurence Juber is a solo performer, recording artist, composer and arranger. His playing fuses folk, jazz, blues, pop and classical styles, creating a multi-faceted performance that belies the use of only one instrument.
A music graduate of London's Goldsmith's College, he was featured guitar soloist with the National Youth Jazz Orchestra before becoming established as a studio musician in the mid-1970's. First internationally recognized as lead guitarist in Beatle Paul McCartney's Wings, with whom he won a Grammy, Juber has since established himself as world-renowned guitar virtuoso and entertainer.
Known to his fans as LJ,  he has recorded more than two dozen albums spotlighting his unique touch and tone on acoustic guitar. His latest release is Select Blends,   a 'virtually' live album pulled from his over 250 livestream performances during Covid lockdown.
His LJ Plays The Beatles was voted one of Acoustic Guitar Magazine's all-time Top Ten albums. His solo arrangement of The Pink Panther Theme earned him a second Grammy, while his arrangement of Stand By Me was heard nationally in a Diamonds Are Forever commercial. Juber's DVD-Audio project Guitar Noir (AIX Records) won a CES Demmy award for best audio.
Juber has 4 guitar folios in print. The latest, The Evolution of Fingerstyle Guitar was published by Hal Leonard in January 2019. His 'photo memoir' Guitar With Wings was recently published by Dalton Watson Fine Books.
As a studio musician, he can be heard on recordings from artists as diverse as Harry Styles, Dan Hicks & The Hot Licks, Seal and the French chanteuse Sylvie Vartin, plus he is featured on the soundtracks to hundreds of TV shows such as Home Improvement and movies including the academy award-winning Dirty Dancing, Good Will Hunting and Pocahontas.
Juber co-composed the soundtrack of the award-winning video game Diablo III and scored the NBC Dateline documentary Children Of The Harvest. His music is also featured in the Ken Burns' documentary The Tenth Inning.