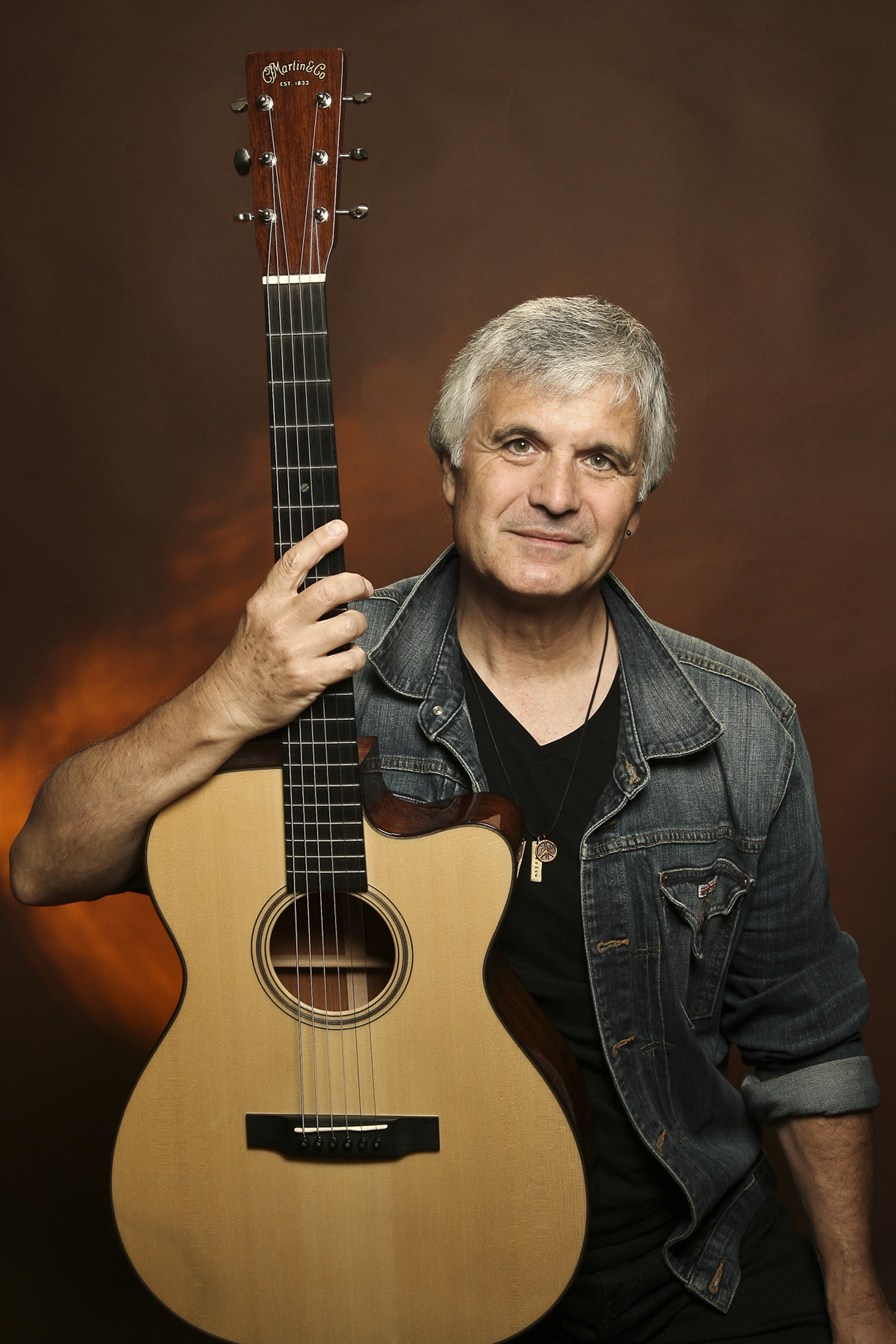 Since 2002 CF Martin & Co have offered a series of Laurence Juber Signature orchestra model OM guitars.
The series is now discontinued, although used examples periodically show up on Reverb.com and from high-end guitar dealers. LJ is currently playing a one-off custom shop OMC21 in Cuban mahogany with a lunar-cut Alpine 'moon' spruce top, thin finish, hide glue construction, titanium truss rod and carbon fiber bridge plate.
If you are interested in purchasing a signature guitar from LJ's personal collection, please email:  [email protected] 
The History of  the LJ Signature Martin model guitar
I can't discuss the instrument without telling some its history first.
In Italy, during the 1770s, the five-course Baroque guitar gained an extra string to become the six-string instrument that we recognize today. This addition allowed for an expanded repertoire and with a few decades the first wave of guitar virtuoso performers fueled "Guitarmania" in the early 19th century.
The German town of Markneukirchen, in Saxony near the Czech border, has been a vibrant center for musical instrument making for centuries. C.F. Martin, the son a of guitar maker, was born there and as a teenager apprenticed in Vienna with the celebrated luthier Johan Stauffer. When Martin returned to his hometown, he found himself in a dispute between the Cabinet Makers Guild and the violin makers, who claimed jurisdiction over guitar building. The restrictions of the guild system prompted his emigration to the United States in 1833. Martin first set-up shop in Manhattan, then five years later moved to Nazareth Pennsylvania, near the Moravian church community of Bethlehem.
C.F. Martin succeeded in riding the wave of popularity for the 'parlor' guitar that had crossed the Atlantic. Initially working with the European style of fan bracing, he introduced a method of bracing the top of the guitar with an X-shaped pattern that eventually became the standard for American steel string guitars.
From the mid-19th century, guitars began to increase in size in order to compete in volume with other string instruments like the banjo and the mandolin. Martin's size classification might seem counter-intuitive, as higher numbers represent smaller guitar, but it is analogous to the system used by machinists. Starting with a size 5, they gradually increase in dimensions as the numbers decrease. The most popular 19th century size was a 2 1/2, although they offered concert sized guitars as large as 00 – known as a 'double ought'. In 1902 they introduced a size 000, by modern standards not huge guitar, but large enough that the stiffer X-bracing made it less responsive than the new styles of Spanish guitar that were favored by classical performers.
The OM
Once Martin adopted steel strings, however, the larger instruments gained an entirely new dimension. The 1920s saw an enormous popularity in the ukelele, plus the banjo was the primary fretted instrument in jazz bands. By the end of the decade, thanks to jazz players like Eddie Lang, the guitar was becoming a significant presence.
Tenor banjoists were making the move to guitar and requesting the neck to have 14 frets clear of the body, instead of the traditional 12 frets. At the request of an Atlanta-area player named Perry Bechtel, Martin responded by altering the body of a 000 to accommodate the neck joining the body two frets higher.
The result was the Orchestra Model or OM, which can be characterized as Martin's first 'modern' guitar. It was only produced between 1929 and 1933 and proved popular with West-coast singing cowboys like Roy Rogers and Gene Autrey who added fancy inlays to match their revolvers. It didn't gain any traction however with its intended market of jazz-band players, who tended to favor the brash and present tone of the archtop guitar.
The modern improvements were passed through to the rest of the Martin catalog and by 1933, the larger-bodied Dreadnaught had become their top-seller and continued to be so through to the 1960s and beyond. The success of the Kingston Trio and the folk boom of the late 1950s, as well as the popularity of Bluegrass music, largely relegated the smaller models to the parlor. Beatle fans may be familiar with Paul Saltzman's photos of John and Paul in India with a pair of D28 models. That's the guitar Paul played on "Blackbird" and it was still his primary acoustic during the 1978 Back To the Egg sessions.
In 1992 Eric Clapton featured a 1938 000-42 model on his hugely successful MTV project and launched the 'Unplugged' acoustic guitar retail boom which included a renewed appreciation for smaller guitars. I had been playing an M38 model which I had purchased when I moved to New York in 1981. It was my go-to studio acoustic through the 1980's but lacked the cutaway and wider neck that I sought for solo work.
Martin had long ceased regular production of OMs and the original 1930s models had become highly prized. Thanks primarily to the efforts of ragtime wizard Eric Schoenberg, the 1990's saw a renaissance of the model.
The combination of body size, string spacing and neck-width made the OM and mid-30's 000 guitars ideal for fingerstyle playing.
I had developed a friendship with Dick Boak at Martin Guitars, the head of artist relations at the company. In 2001, with Dick's help, I ordered a custom shop Martin OM18 with a cutaway and an Adirondack spruce top, a wood characteristic of guitars built before 1940.
It arrived on the day I was at Capitol Studios recording my Different Times album and, when I went back to finish recording the next morning,
I took it with me. It was so newly-hatched that the lacquer finish on the wood was still venting fumes. Undeterred, I immediately, albeit slightly dizzyly, put it to use on the album's title track to great effect.
I called Dick a few days later raving about the guitar. He asked me how I would feel about making it my artist signature model.
How could I say no?
In the course of 16 years, they offered editions in mahogany, Brazilian rosewood, Indian rosewood, Madagascar rosewood, Big Leaf maple and koa. All have Adirondack (Red) Spruce tops and are built to the same basic specifications, so differences in weight and sound are characteristic of the woods used in that specific instrument. I've toured and recorded with these various incarnations and it is an honor to be associated with the company.
The most recent incarnations were offered with 'moon' spruce, lunar-cut Alpine tops.
OMC18 LJ –  limited edition of 133 + 3 protoypes
OMC28 LJ –  limited edition of 133 in Indian rosewood
OMC28B LJ – limited edition of 50 in Brazilian rosewood + 4 Prototypes
OMC28M LJ – open edition in Madagascar rosewood, 200+ produced
OMC18 LJ –  open edition in mahogany, 80+ produced
OMC28 LJ Pro – open edition in Big Leaf maple with DTAR pickup, 60+ produced + 1 prototype
OMC44K LJ – 2011 Wildwood Guitars dealer edition of 25 + 1 prototype in koa with all hide glue construction
OMC18 LJ – "Lunar Eclipse" – 3 in mahogany with lunar-cut Alpine spruce tops, thin finish and hide glue construction + 1 prototype
OMC21 LJ – My Favorite Guitars dealer edition of 14 + 1 prototype. Guatemalan rosewood with lunar-cut Alpine tops, thin finish and hide glue construction.